Acoustic Garage
Learn what lies behind acoustic management for vehicles.
Be your own acoustic expert and master how to bring driving comfort to your vehicle.
Build the perfect car sound package with Acoustic Garage, Autoneum's new acoustic configurator. Select a vehicle type. Choose the engine. Tailor acoustics to your liking.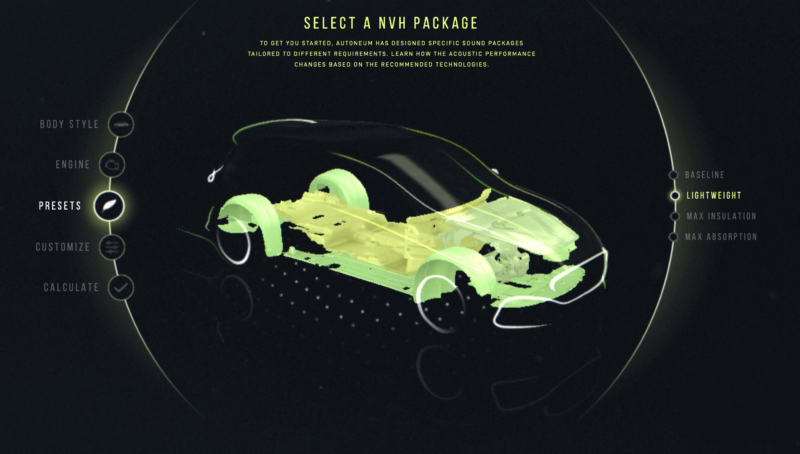 Getting started
is fast, free and easy.
Acoustic Garage guides you step by step from the basics of acoustic development to advanced customizations, all thanks to Autoneum's latest simulation methods. Best of all: Use it for free!
Define your sound package in only five steps.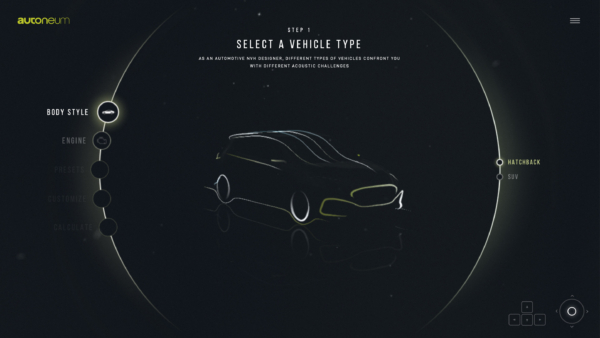 Select a vehicle body.
Choose between a hatchback and an SUV.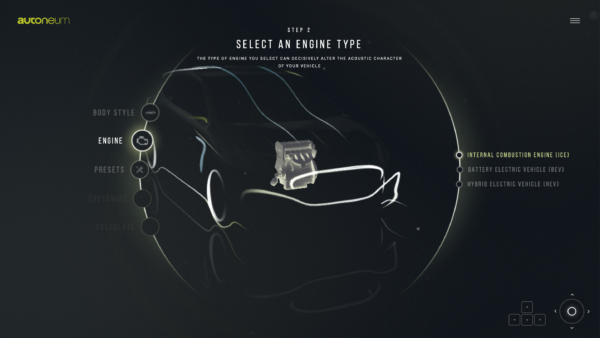 Add a powertrain.
Either your car is equipped with a combustion engine or it runs on battery power.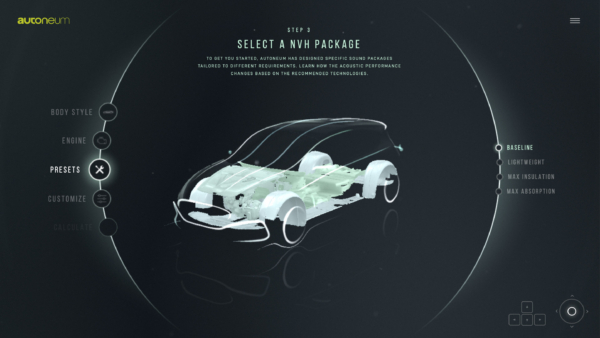 Use preset sound packages.
Compare the acoustic performance between specifically designed sound packages.
Customize part performance.
Adjust the features of various Autoneum components and technologies to your liking.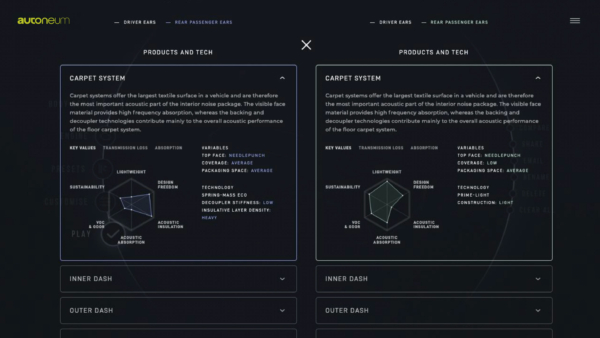 Create individual sound signatures.
Review, compare and share multiple sound packages.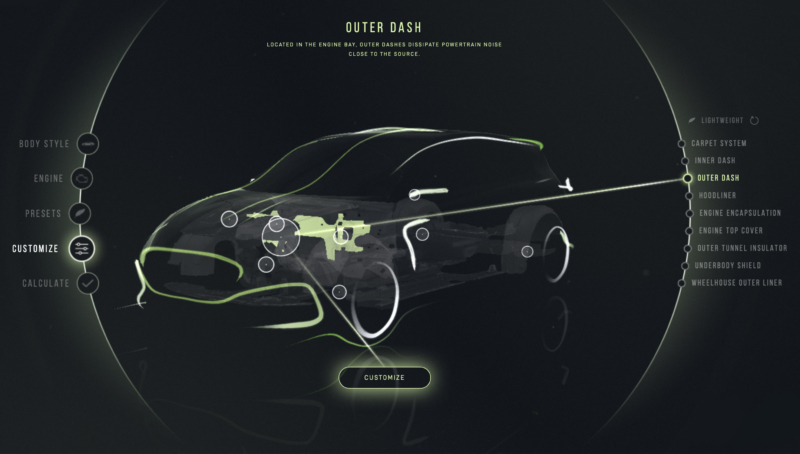 Customize it!
Make the car as light as possible while optimizing noise protection – it's all in your hand.
Discover Autoneum's latest technologies, customize the acoustic package and see how it performs compared to the proposed presets.
When you have selected the package of your choice, generate the report in real time with Autoneum's simulation software and find out about the performance benefit it achieved. Save and share with your colleagues instantly with one click.
And if you want to come back later and have another try, you can do that as well. Acoustic Garage stores all your reports. You only have to register your email address to call up your previous configurations.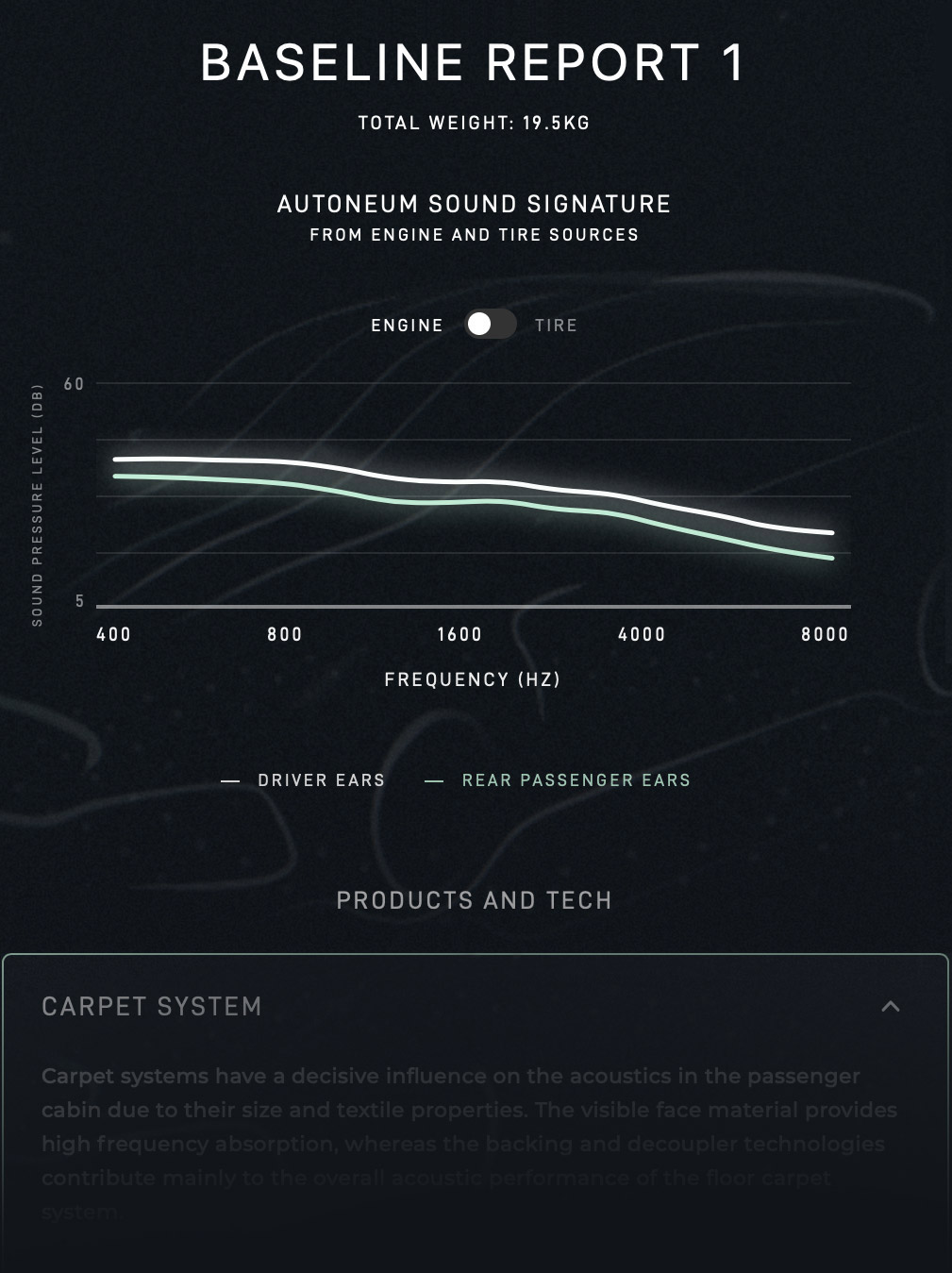 Behind the scenes
Find out how Acoustic Garage works.

Acoustic Garage is based on a set of complex simulation tools that Autoneum has developed in-house. The software then analyzes the acoustic performance of the components and the vehicle configured by you in real time.