Research and Development
Vehicle Acoustics


Individual Sound Packages for Optimum Vehicle Noise Protection
The acoustics experts at Autoneum develop, produce and test innovative acoustics solutions tailored to individual customer requirements for the entire vehicle – engine bay, underbody, interior floor and body-in-white.
Autoneum operates a worldwide network of state-of-the-art acoustics centers and material testing laboratories equipped with specially developed measurement systems. Thanks to its international presence, customers of Autoneum can rely on the professional support of a global team of acoustics experts in all project phases – ideal conditions for successful long-term cooperation!
Autoneum supports its customers in both pre-development and in the development of sound packages based on simulation and testing with its comprehensive and in-depth know-how in vehicle acoustics.
Pre-development
Before the start of vehicle development itself, Autoneum carries out a global NVH benchmarking (noise, vibration, harshness) in which the market requirements and current industry standards are analyzed. This procedure enables the customer to be supported at an early stage in the positioning and performance assessment of a new vehicle in the market. Together with the customer the specific requirements concerning the individual materials and vehicle components are defined to put together an individually tailored sound package after the NVH benchmarking.
With the rise of electric mobility, numerous new requirements are emerging for NVH development. For example, in the absence of engine noise in electric vehicles, more attention is drawn to sound sources that are new or were previously drowned out, such as fans and pumps or electronic drive components.
Autoneum regularly carries out detailed vehicle and component studies for new electric vehicles in cooperation with the benchmarking platform A2Mac1. To learn more about it, contact us at benchmarking@autoneum.com.
Simulation and Testing
In the development phase Autoneum falls back on tried-and-tested simulation methods for the design of sound packages. These enable customers to lower development and product costs significantly. The use of Computer-Aided Engineering (CAE) and a broad-based material database lead to the following benefits for customers:
Early identification of potential problem areas

Shortening of lead times

Reduction in the number of required prototypes
Thermal Management


Tailored Products for Automotive Heat Protection
Autoneum's highly developed heat protection components enhance driver comfort and thanks to their lightweight also contribute towards considerably lower vehicle fuel consumption and emissions. As well as components for the insulation, shielding and storage of heat, Autoneum's range of automotive thermal management solutions also includes state-of-the-art thermal testing and calculation processes. At global development centers the thermal management experts from Autoneum carry out continuous material testing on components and in vehicles and use unique simulation software to develop innovative thermal protection packages that are tailored to customer needs.
Autoneum Supports its Customers with a Range of Thermal Management Systems for:
Heat protection in the underbody and engine bay with engine-mounted heatshields, hoodliners, engine covers as well as underbody systems

Heat storage in the engine bay with engine or vehicle-mounted engine encapsulations

Thermal comfort in the vehicle passenger compartments with interior trim panels
Network


Innovation through Global Development
Innovations are a decisive success factor for Autoneum and therefore count among the company's six strategic priorities. Autoneum is the innovative leader in acoustic and thermal management solutions for vehicles and sets industry standards with the development of multifunctional noise and heat protection products and specialized measurement systems. At the R&T Center in Winterthur, Switzerland, technological future concepts are implemented within the scope of predevelopment. Furthermore, proximity to the customer and the market is safeguarded with twelve decentralized acoustics and development centers in France, Germany, Poland, Switzerland and the USA as well as in China and Brazil. While simulations and tests are conducted under real-life conditions at the acoustics centers, the development centers focus on individual solutions and products for vehicle models.
Simulation
Innovative Software for optimizing NVH, Structural and Thermal Performances
In order to support customers already in the design phase of new models and in the further development of existing vehicles, Autoneum uses a broad spectrum of internally developed simulation software programs. These programs combine Autoneum's in-depth expertise with the individual requirements of the vehicle manufacturers.
With the help of this software, Autoneum predicts and optimizes the NVH performance (noise, vibration, harshness) of vehicles and in doing so makes a decisive contribution towards their noise reduction. For example, Autoneum has developed the GOLD simulation software for the needs-based deployment of damping materials in the vehicle. It not only optimizes the size, weight and quality of damping materials but additionally illustrates the optimal positioning of these components in the vehicle. This enables the best possible combination of damping materials and body panels to be achieved.
The high-performance REVAMP and VisualSISAB software programs are used for the analysis, optimization and validation of the isolation and insulation properties of components for the vehicle interior floor. These components include carpet systems as well as bulkhead, wheelhouse and floor insulators. The aim is to achieve the perfect balance between acoustic performance and product weight. This enables Autoneum to make a significant contribution towards further improving the interior acoustics and reducing the weight of vehicles.
The simulation software programs developed by Autoneum are also used for the calculation and subsequent enhancement of the thermal insulation properties of components for the engine bay and the execution and analysis of material fatigue tests.
For further information, please contact us at simulation@autoneum.com.
Measurement Systems
Top of the Range Technologies that are Easy to Operate
Autoneum has been the leading supplier of specialized measurement systems for automotive acoustics for 50 years. Moreover, the company is continuously developing innovative systems and equipment to measure the NVH performance (noise, vibration, harshness) of component and material properties. The measurement systems of Autoneum can be used to assess and compare noise-reducing components and systems in next to no time. This facilitates the compilation of sound packages for vehicle manufacturers while at the same time ensuring that the customer receives a product that is optimally tailored to his needs. Autoneum's highly specialized measurement systems have become globally recognized industry standards that are successfully used by both vehicle manufacturers and suppliers.
For further information, please contact us at ms-sales@autoneum.com.
The Benefits of the Measurement Systems at a Glance:
Accurate, reliable and immediate measurements

Facilitated development and enhancement of vehicle-specific sound packages

Applications tailored to customer needs

Simple and intuitive operation thanks to user-friendly software

Technology standard recognized throughout the industry that is used by vehicle manufacturers and suppliers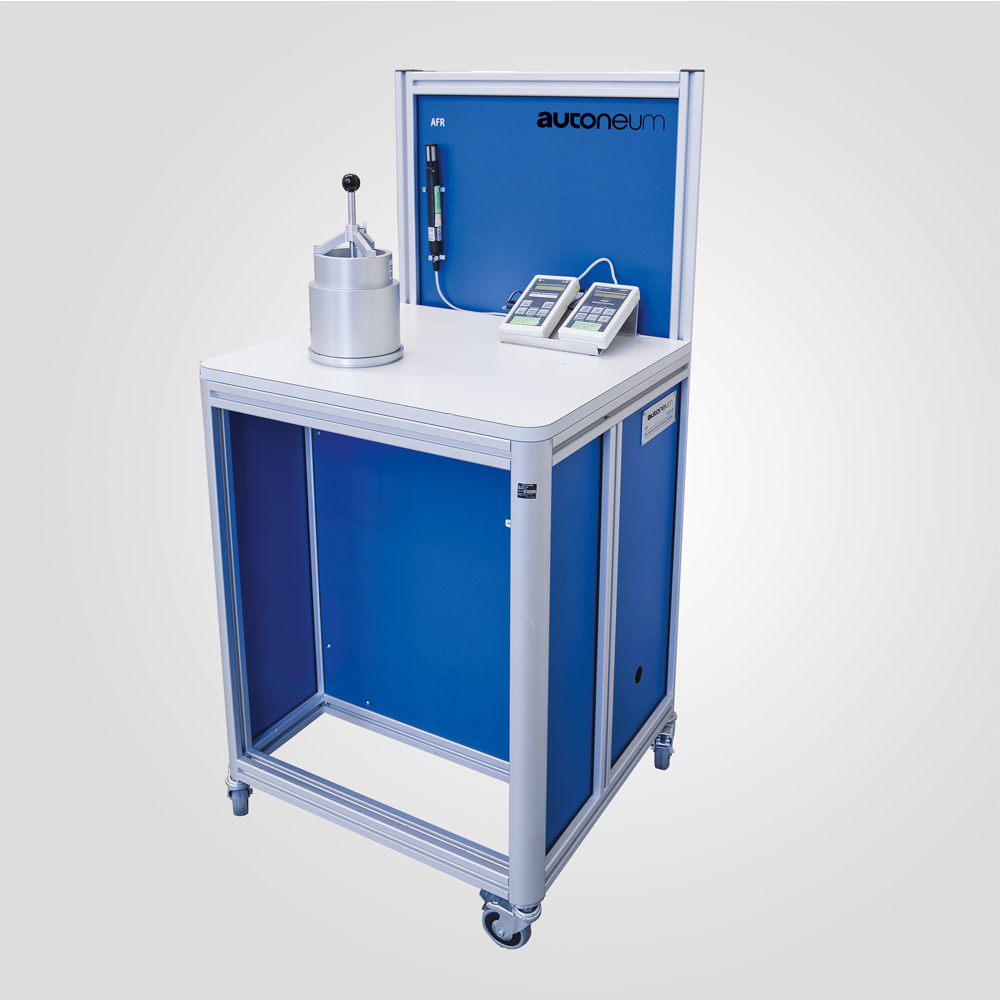 AFR


Measuring the Airflow Resistance of Porous Materials
The AFR (Airflow Resistance Measurement) system was designed to measure the airflow resistance of porous materials in an easy way without compromising in terms of measurement quality. The measurement results of the AFR system comply with ISO standard 9053:1991.
The AFR system offers:
An extremely robust, stable, durable and high-quality construction

Easy and intuitive operation also for non-experts

Measurement of thin materials (fabrics or non-wovens) thanks to a special sample holder

Rapid and easy fixation of measurement samples

Easy transportation
Technical specifications:
| | |
| --- | --- |
| Overall dimensions: | 0.6 x 0.6 x 1.24 m (L x W x H) |
| Sample diameter: | 100 mm |
| Airflow Source: | Vacuum pump or compressed air |
| Standards: | ISO standard 9053:1991, method A (direct airflow method) |
Alpha Cabin
A Global Standard for Acoustic Absorption Measurements
The Alpha Cabin has been especially designed for the measurement of acoustic absorption properties of materials and components used for the noise insulation of vehicles. The Alpha Cabin is significantly smaller than normal reverberation rooms and therefore ideally suited to use within limited space capacities. The acoustic absorption of the Alpha Cabin itself is also very low: Thanks to the high level of sound insulation, background noise in the frequency range of interest is kept to a minimum.
The Alpha Cabin offers:
Development of enhanced sound packages and new materials and components for vehicles

System recognized throughout the industry that is used by both vehicle manufacturers and suppliers

Measurement results enable specifications for the absorption properties of NVH products (noise, vibration, harshness) to be drawn up

Fast and easy measurement procedure thanks to user-friendly software

Also ideal as a quality control system

Easy transportation thanks to comparatively small size

Can also be used in combination with Isokell to measure sound insulation